Free consultations 24/7

Иконка телефона

+7 (499) 609-2372

Поддержка:

Онлайн

Ждем вашего звонка :)

Наше рабочее время:

Mon — Fri, 8am — 2am (EST)

Поддержка:

Офлайн

Будем онлайн через: 2h 34 min

Наше рабочее время:

Mon — Fri, 8am — 2am (EST)
Latest Articles
Posted on August 13, 2020
Category: General
Real estate is a hot topic worldwide, as buying and selling property is a lucrative venture. Real estate agencies are starting up every day, making it a challenge for new companies to stand out in the market. Establishing a brand is essential, and one key step in that process is creating an effective real estate logo design.
Brand recognition is the goal for agencies old and new. To do that, you need a logo that will represent who you are and what you offer. You also will want a logo that helps the audience identify you out of the many competitors you have in the real estate niche.
This article will discuss the elements of a real estate logo and what makes it memorable and distinctive, so you create a cohesive design that works for your brand.
Typography
Typeface imagery is a versatile design technique that lets the letterform take center stage on the logo. When choosing a wordmark logo design or a typography-based logo, be careful in selecting the font, style, and typeface that suits your brand. You can combine these elements to create your logo.
One thing to take note of is the typeface you use. For instance, applying a serif typeface like Times New Roman might not be the best idea when you want your brand to be known as fun and friendly. Similarly, Comic Sans cannot express sophistication in logos, which makes it incompatible for brands that sell luxurious properties like penthouses or mansions.
This logo for XYZ Rent carries a fun, youthful vibe, and rightfully reflects the brand's identity. The company offers residential houses and student rentals, catering to a younger customer base in Santa Monica and nearby areas. The designer chose a muted turquoise and white as its colors, representing trust and professionalism. It also uses a sans serif typeface that serves as a chic and stylish wordmark for the logo.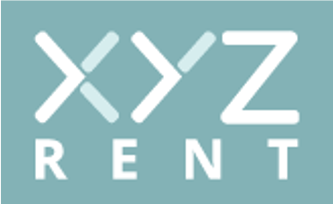 Symbols and Icons
A logo's graphic element consisting of symbols and icons takes a significant place in the overall appeal of the design. In the real estate sector, effective branding means using images that will give the audience an idea of what products and services the company offers.
A symbol or icon can be partnered with a typeface for the business name, or it can be used as a standalone without any tagline. An icon, when created right, can express the company's philosophies and target niche with just a single image.
For example, Auctions.com aptly uses an auctioneer's gavel on its logo. This gives the viewer a clear understanding of what the firm is about. Auctions.com is perfect for someone looking for deals on properties, serving online auctions that benefit both auction houses and bidders.

Trends
Logo design trends can be your guide to a brand that keeps up with the times. Some notable trends for 2020 include going vintage, gradients, emblems, and minimalism, which suits real estate agencies well when applied right.
This minimalistic real estate logo for Marc Verbena Properties is simple yet elegant, which represents the company's luxury real estate transactions. It uses a modern sans serif typeface with unique typography that's all the rage in the design industry lately.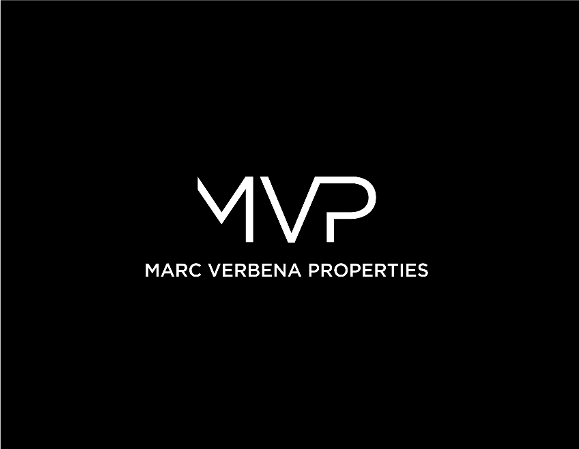 Design by imelpat
Colors
As a crucial element to any logo, colors are an eye-catching attribute that can get people curious about your brand. It can invoke memorability to the design and can make the logo distinct from competitors that may have the same icons or typography as you.
Real estate logos rarely use multi-color elements, but it ultimately depends on how colors are arranged on the design in relation to other features like shapes, icons, and typeface.
Majestic Homes Real Estate, a company from Dubai, makes excellent use of the color wheel on its logo, creating an image that's easily identifiable and memorable. Applying it to the circular icon expresses commitment and professionalism, which is what the company offers to its clients.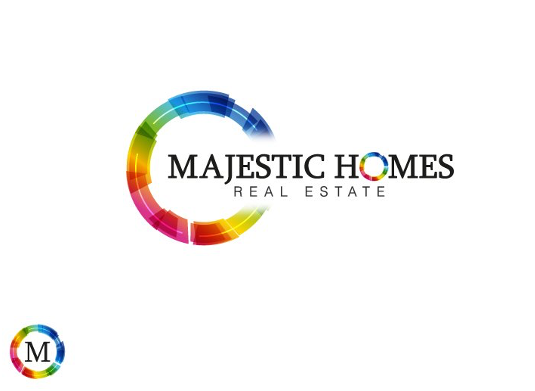 design by DanaGraphics
It's in the name
Sometimes, it's better to steer clear of common elements like roofs and buildings when making a logo for a real estate. What you can do instead is create a logo inspired by your brand name. There's no limit to what you can do design-wise based on the title, including the use of icons or wordmarks that you can mix and match to suit your preference.
Property Kings, a real estate investment company, makes good use of its name on the logo by incorporating a crown on top of the letter O colored in royal red, accentuating the design. It also utilizes thin lines and excellent spacing, making it an effective real estate logo.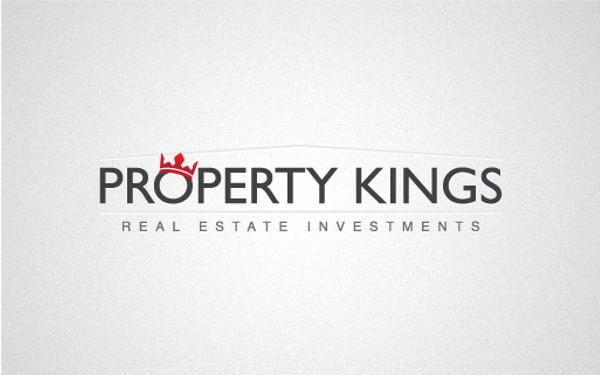 design by eximius123
Invoking a feeling
Having a unique visual identity is essential when you also want to stand out from the rest of the crowd, which is why going outside the box is a necessary step in logo design. Contrary to old trends where logos are straightforward and strictly professional, designs today are still authoritative yet friendly.
Drawing emotions from a logo may be unconventional, but many companies are starting to jump on using this style to be unique. There are real estate logo designs that remind a client of an event or place, helping them associate it to an earlier memory. This consequently makes the logo more memorable to them.
This REI Mart logo is inspired by a shopping center with its price tag graphic element. It also brings in some of the classic images like a window and roof, which makes it clear that the company offers an avenue where people can shop for a property.
Wrap Up
An effective real estate logo design will work if it translates who and what you are as a brand. If you're set on creating the logo for your real estate company, you can keep these pointers as a guide. Remember, there are many ways to apply these elements, which is why it's crucial to try different approaches before settling on one that matches your brand's style and voice!
Are you a Designer?
Join Us
community counts
~200k designers